DID JOB RATE REALLY DROP?
Friday, December 7th, 2012 at 2:31 pm
I was reading an article on job rate really drop.  Its kind of crazy to say what made me write this post was because it shows in the chart below how November has increased. Now one thing I can tell you is this unemployment is getting worse as the months go by.  The main reason why jobs in November has increased its because of the holiday.  In my opinion it does not make sense to me for someone to work for two months until the holiday is over and than whatever company you are working for lets you go in the end of December.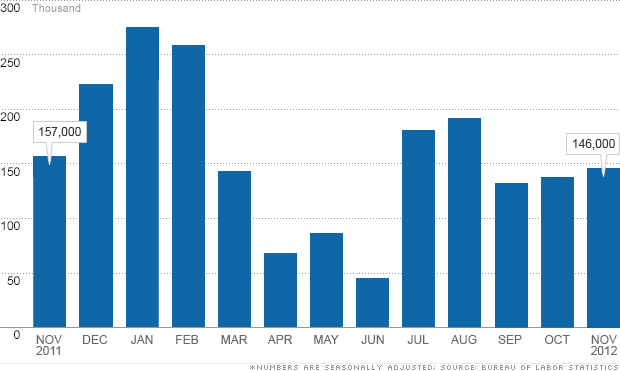 If you look at the chart above, I can assure you in the month of January of 2013 its going to drop drastically.  The reason why its because the holiday is going to be over and companies are going to let you go if you are working in a job such as a retail industry.  First thing first January seems to be the hardest months for many people reason is because of the expenses in December with gifts to family members.  Job Rates are not increasing because its not a consistent and permanent thing.   The thing to do is to have a PLAN B and that is what I am going to be discussing next.
HAVE A PLAN B TO PREVENT JOB DROP
If you have a PLAN B TO PREVENT JOB DROP, you are going to be less effected when you have to pay your bills and you are relying on that retail seasonal job.  Seasonal Job are more for college kids instead of ordinary people trying to make a living to pay their bills.  I have found a solution to help you with your PLAN B to prevent job drop.  Read more
Also if you need more ways to market and training tips make sure you click on the top menu tab where it says YouTube to get the most updated training.
Share and comment if you got value!
Wish You Much Success!
If you found value in this blog post I would appreciate a comment below….
Email: WorkWithRaymond01@gmail.com
"I help network marketers how to find the missing link to success."
PS: I Enjoy Financial Freedom! If You Would like More Financial Freedom Feel Free To Take The Tour
Click Here
Follow these topics: Newsletter
facebook comments
Powered by Facebook Comments
Tagged with: unemployment rate
Filed under: Newsletter
Like this post? Subscribe to my RSS feed and get loads more!